The main objective of the "Creative 100" project is to develop 100 solutions and ideas to improve Ulaanbaatar city's public spaces involving 100 creative people including architects, urban planners, street artists, graphics designers, interior, exterior and furniture designers and more. Participants will undertake trainings, creative workshops and meetings focused on how to make the city and the streets more inclusive, accessible and attractive considering inclusion lenses at every stage of the design process.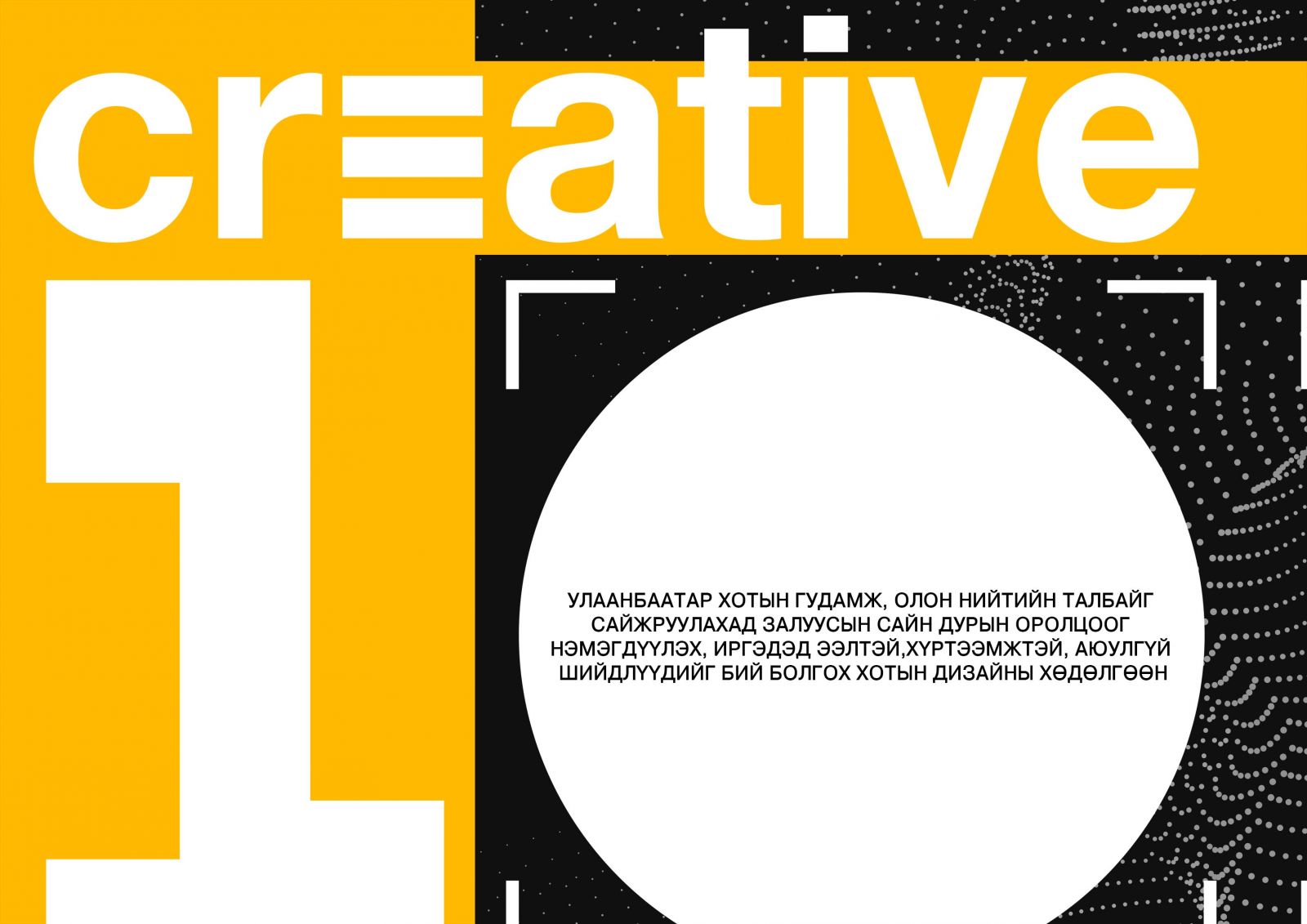 The project has 3 phases:
Phase 1: August 2019- November 2019
Creative 100 project team will meet the key stakeholders including representatives from Capital City planning, design and decoration agencies. We will organize 3 meetings and workshops by November with the project team, stakeholders, and the volunteers in an engaging, creative, and interesting way. At the end of the 3 meetings, creative volunteers will start working on their own ideas and design solutions for couple of weeks. After we have 100 solutions for public spaces, we will introduce the ideas for public through www.creative100.mn website and will start our social media campaign.
Phase 2: December 2019- April 2020
Introduction of the 100 solutions will continue. This will become a 'design menu' for the municipal government to give them ideas for public space improvement and they will be able to select the design solutions they want to implement. We are planning to organize several fundraising events and initiatives to get support from private sector, individuals and organizations to make the 100 ideas reality.
Phase 3: April 2020- August 2020
At this stage, we will start implementing the ideas. All of the implementation will be financed by the raised funding from business entities and individuals and other organizations. We will then start creating safe, clean and accessible environment for the residents of the city
Recently, three workshops were organized for the project, one with around 260 private stakeholders, one with Ulaanbaatar municipal government and the final one with urban planners and teams discussing the chosen ideas and urban issues.
Within this project, teams can focus around 5 main themes:
COMPLETE REDESIGN OF CITY'S PUBLIC SPACES AND STREETS
REDESIGNING THE STREEET AND PUBLIC SPACE ELEMENTS INCLUDING BUT NOT LIMITED TO FENCES, STREET LIGHTS, AND BENCHES
GREEN SPACE DESIGN SOLUTIONS
DESIGNING ACCESSIBLE AND SAFE CITY SOLVING CURRENT CHALLENGES
CREATIVE ART ELEMENTS AND COLORS